Art Salon Chinatown Presents
Made in Asian America
 May 11 – July 3, 2019
Opening Reception: Saturday May 11, 2019 , 6 – 8 pm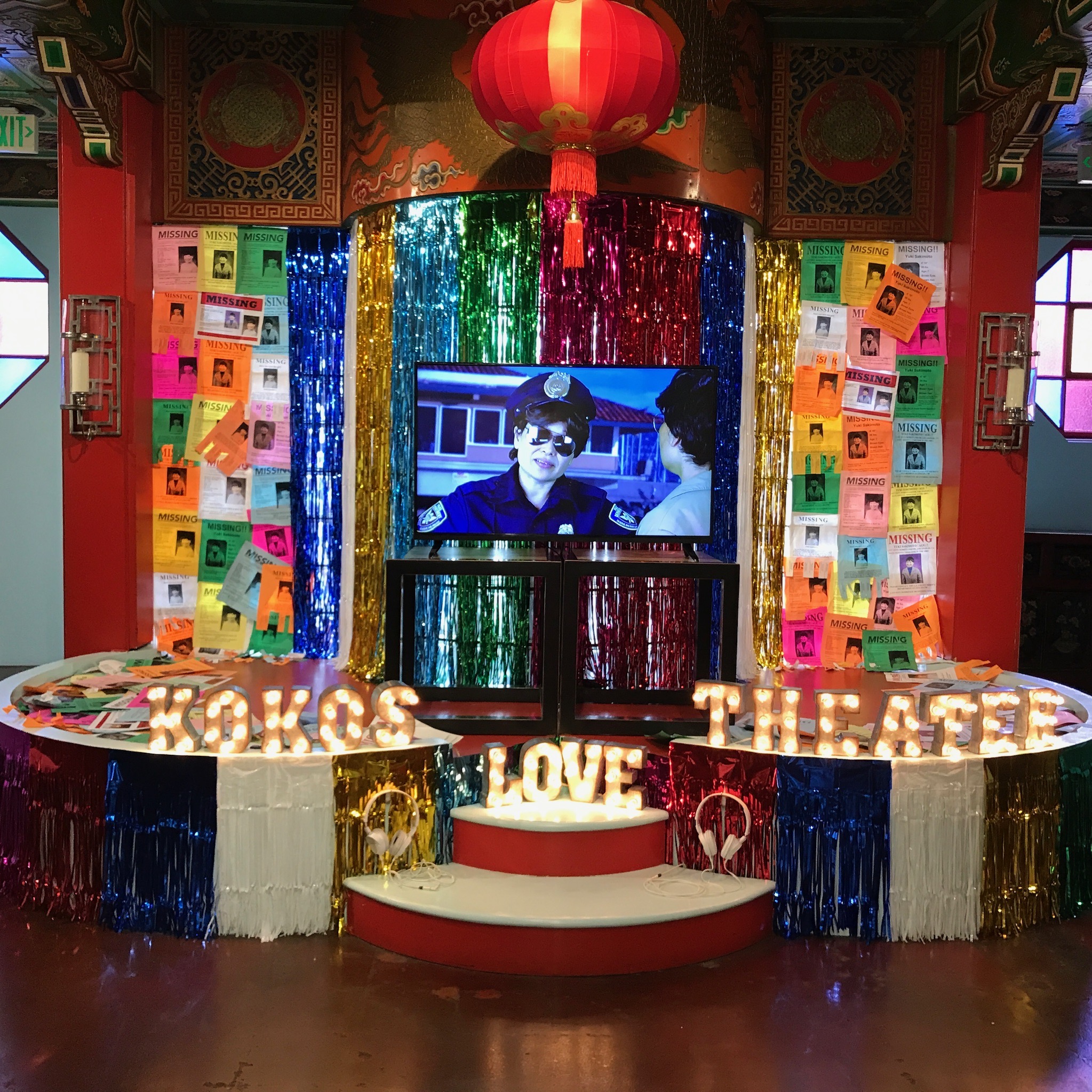 Yoshie Sakai, Koko's Love Theatre, With Koko's Love: Episode 3, 2018-2019, single channel video installation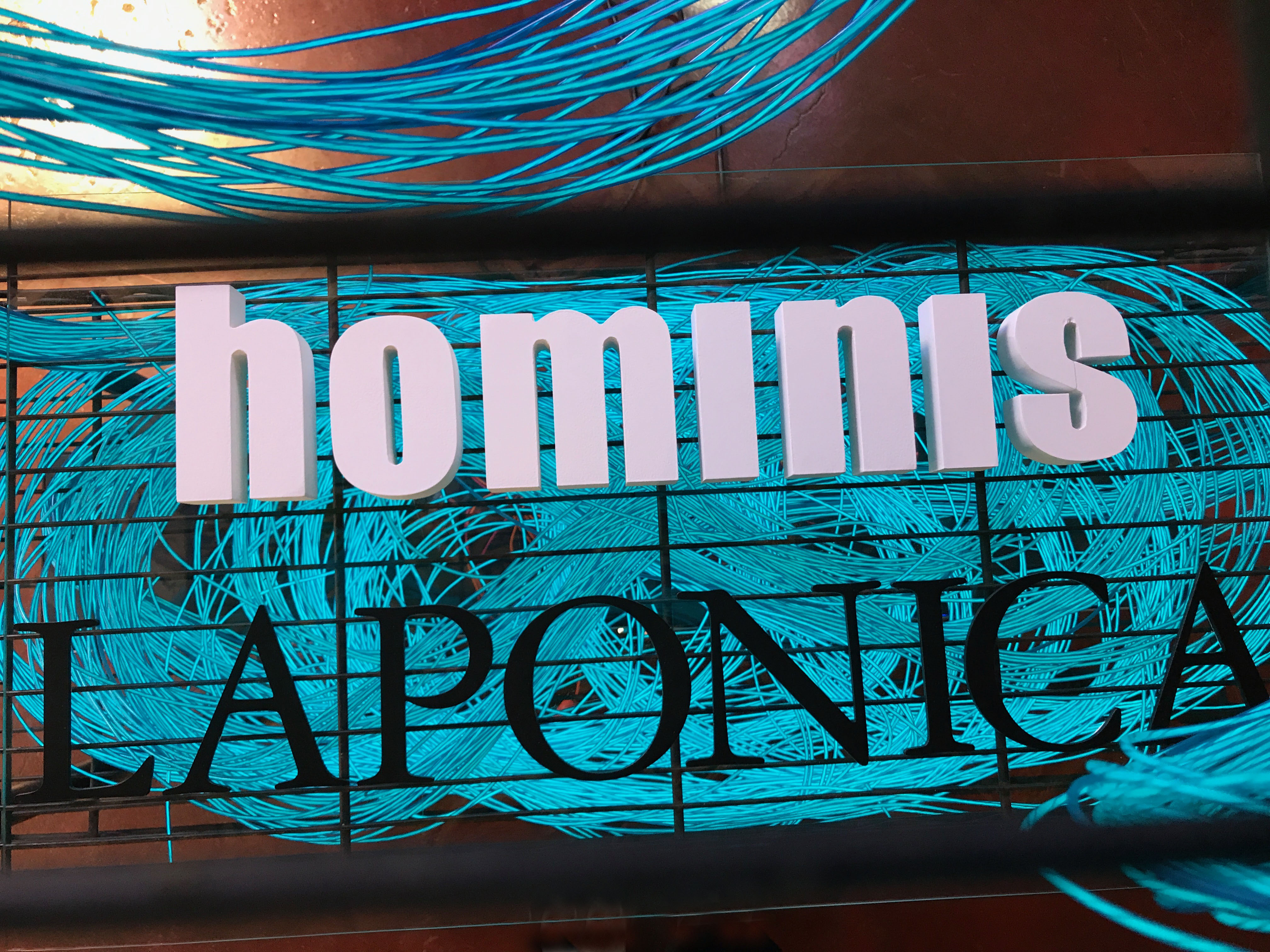 Clement Hanami, Study in Light, Light Installation, 2019, Dimensions variable
Keiko Fukazawa, Good Luck, 2005, Earthenware, glaze, china paint, gold luster, kimono, fabric markers,
60 x 22 x 22″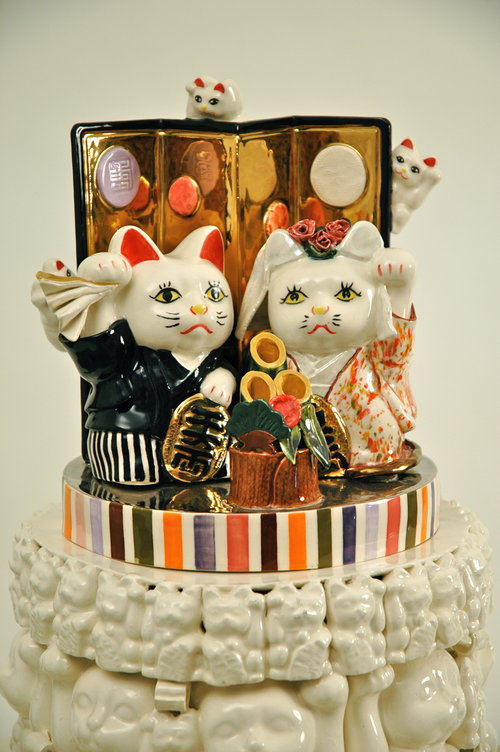 Keiko Fukazawa, Good Luck (Detail), 2005, Earthenware, glaze, china paint, gold luster, kimono, fabric markers,
60 x 22 x 22″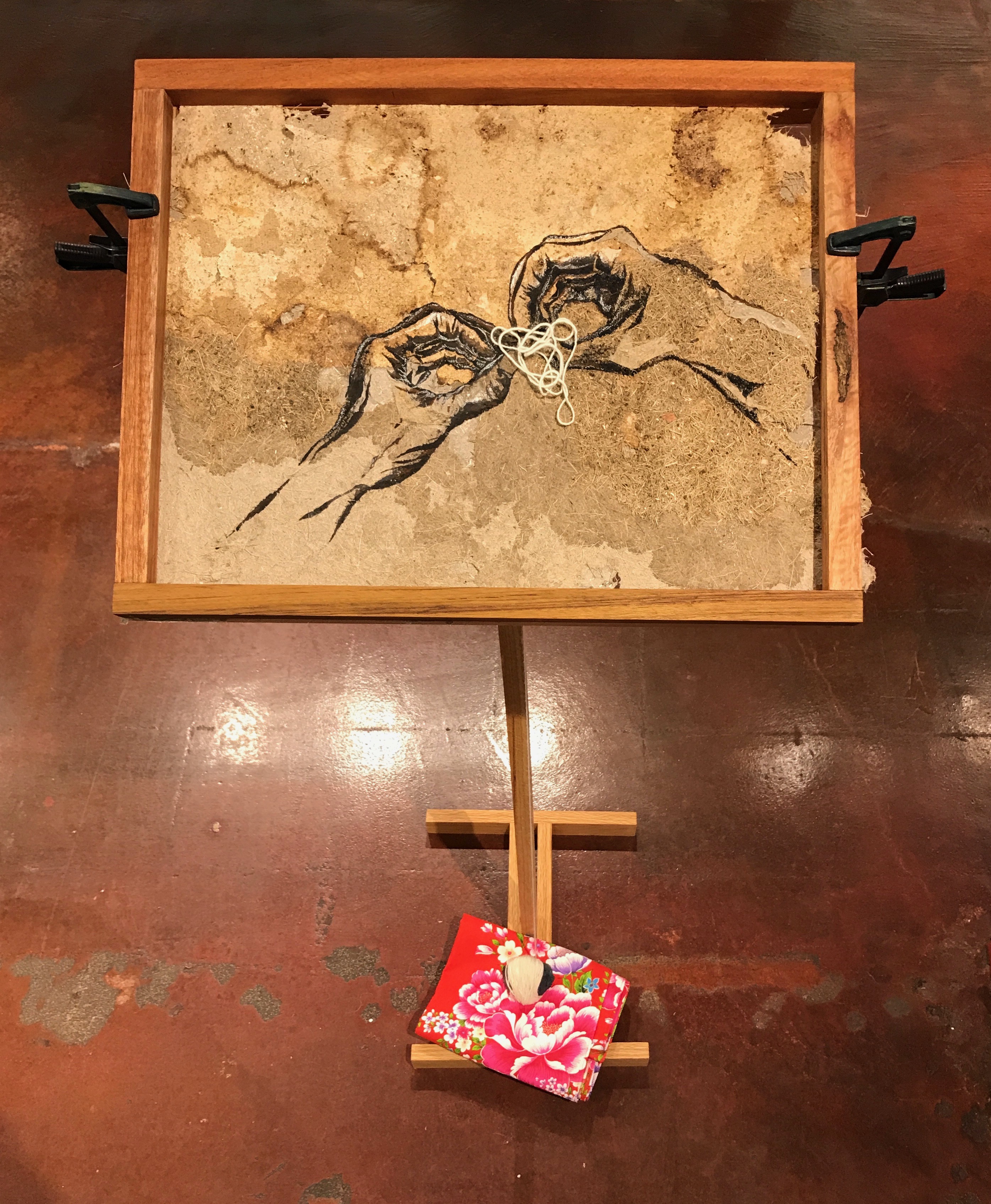 Iris Yirei Hu, Viewfinder, 2019, Acrylic, cotton warp, handmade paper from yucca, hemp, and compost, mould and deckle, clamps, wood, hand dyed indigo rock, Taiwanese Hakka textile, 45 x 24 x 14″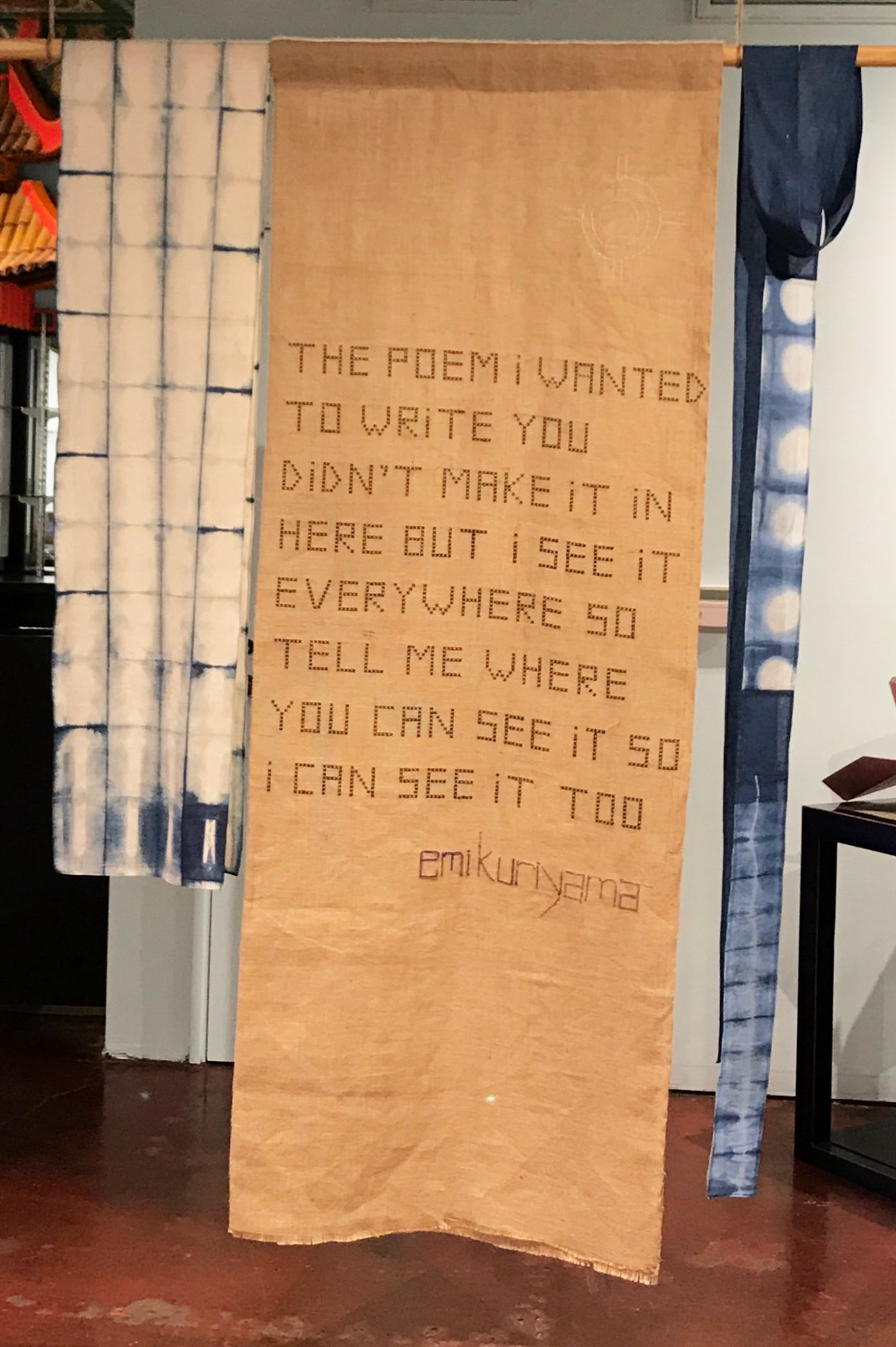 Iris Yirei Hu, Foreword, (The Poem, after emu kuriyama) 2019, Hand stitched embroidery on burlap, needle, hand dyed indigo muslin and hemp, dowel, twine clothesline, and oxygen, 78 x 48″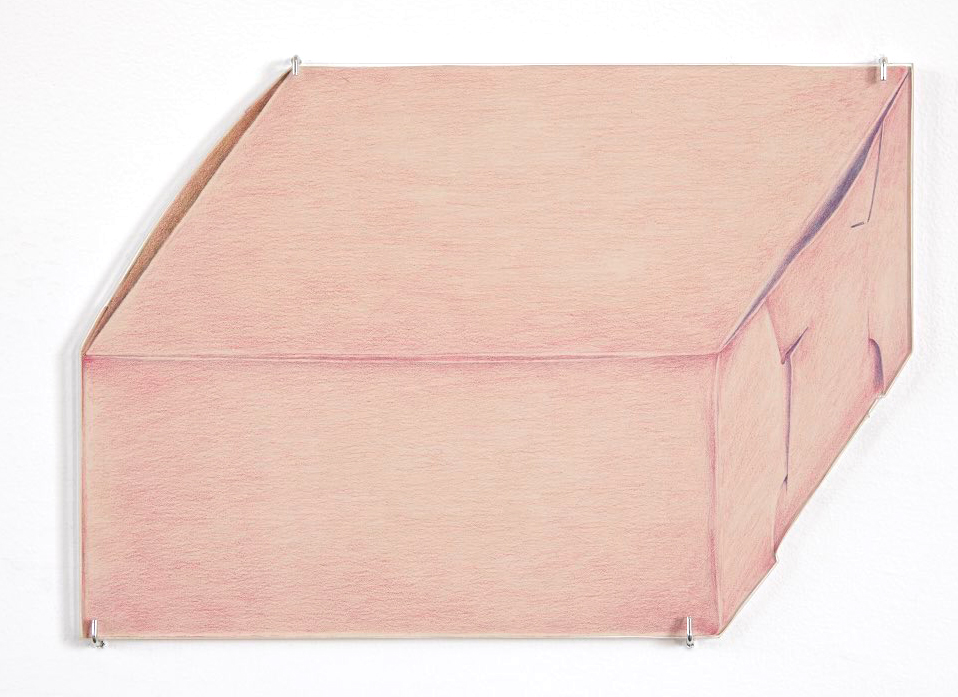 Maryrose Cobarrubias Mendoza, Faded Box, 2014, Pink box drawings, Colored Pencil on paperunder plexiglass, 8 1/2 x 12″
Maryrose Cobarrubias Mendoza, Retrieval, 2019, pastry boxes, 13 1/2 x 9 x 13 1/2″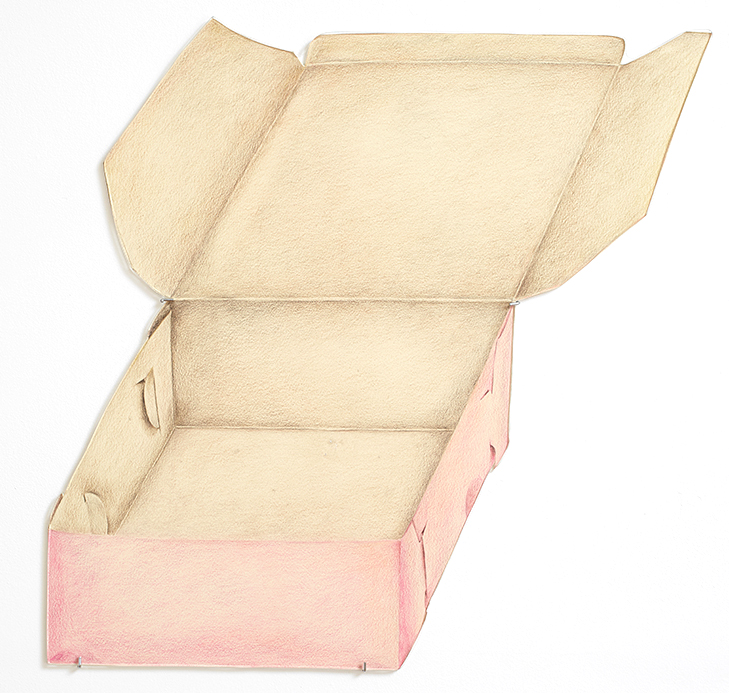 Maryrose Cobarrubias Mendoza, Empty, 2015, Pink box drawings, Colored Pencil on paper under plexiglass, 18 x 19″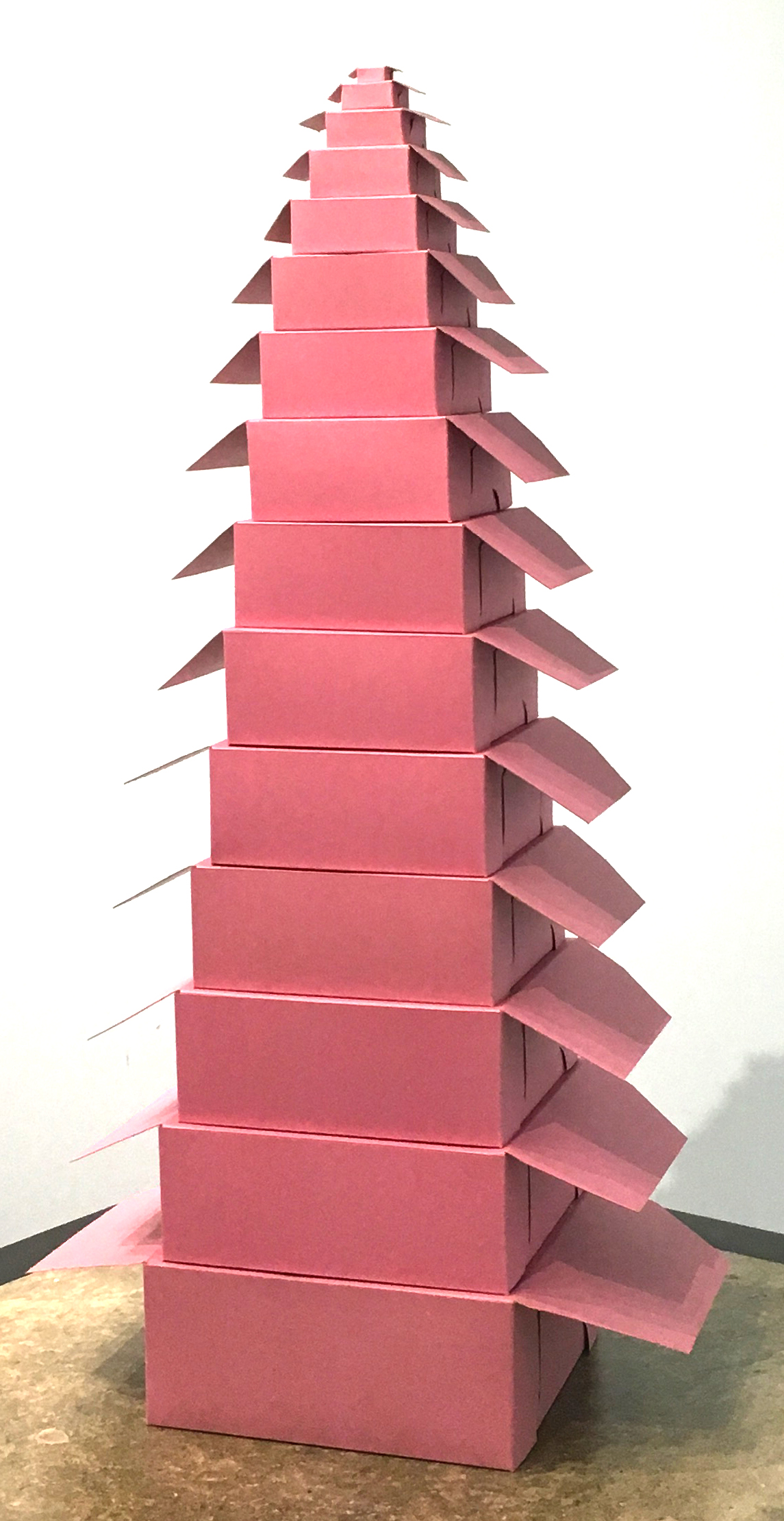 Maryrose Cobarrubias Mendoza, Storage, 2019, pastry boxes, 32 x 17 x 9″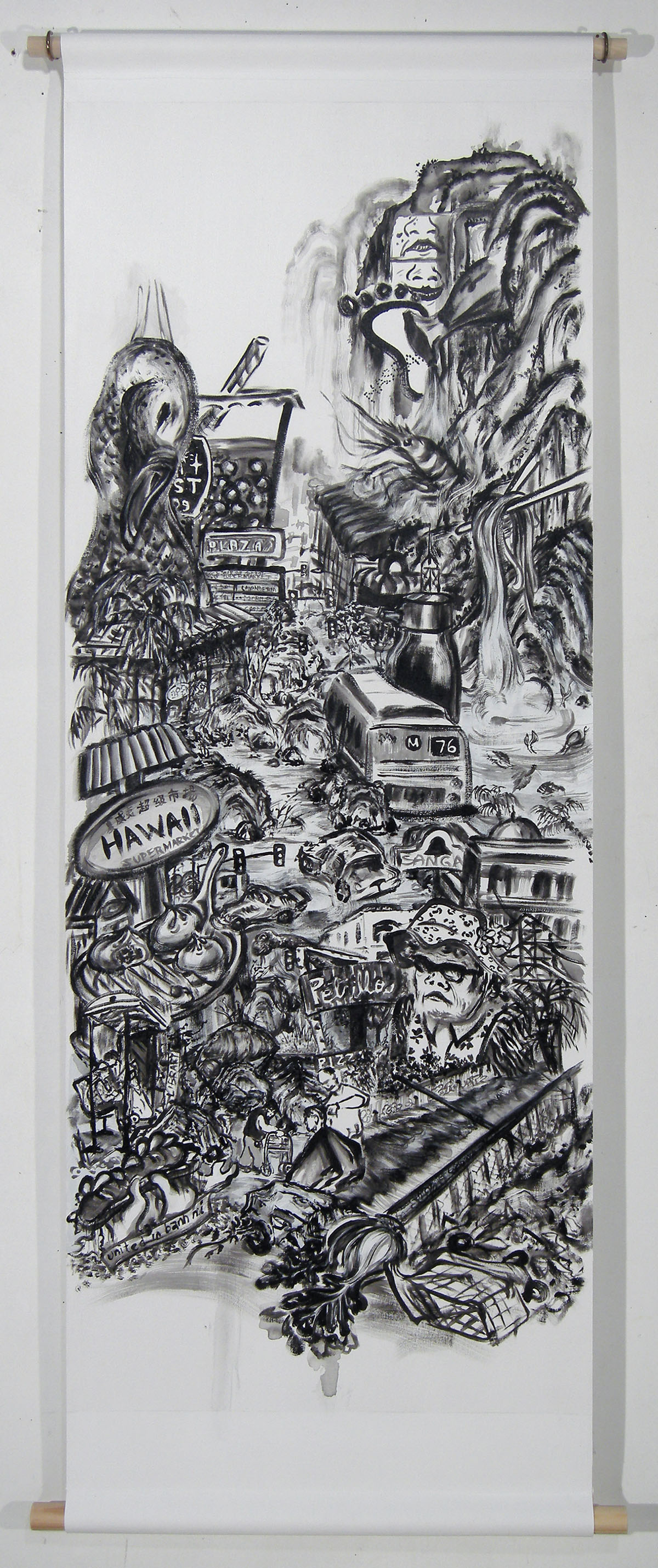 Sandra Low, Valley Blvd. 2019, Acrylic on canvas, wooden dowels, 57 x 23″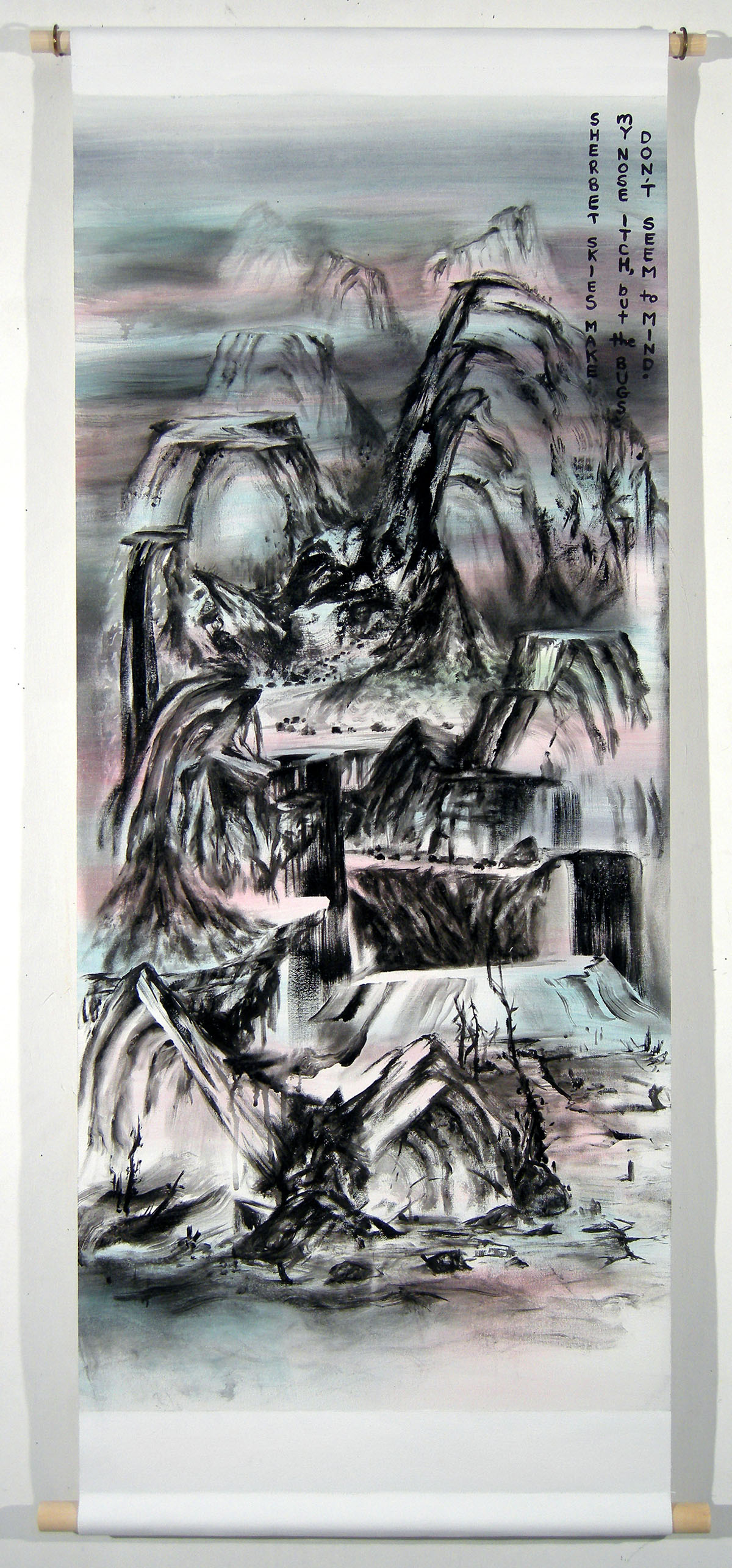 Sandra Low, Sherbet Skies, 2019, Acrylic on canvas, wooden dowels, 54.5 x 24″

Sandra Low, Buddhism Means, 2018, Acrylic on canvas, wooden dowels, 58.5 x 21.5″
Việt Lê – hom(m)e, Diptych (panel 1) , 2000 , C-print, resin, gold leaf mounted on board, 72 x 48″ (each panel)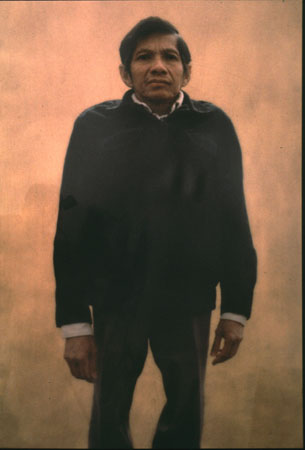 Việt Lê – hom(m)e, Diptych (panel 2) , 2000 , C-print, resin, gold leaf mounted on board, 72 x 48″ (each panel)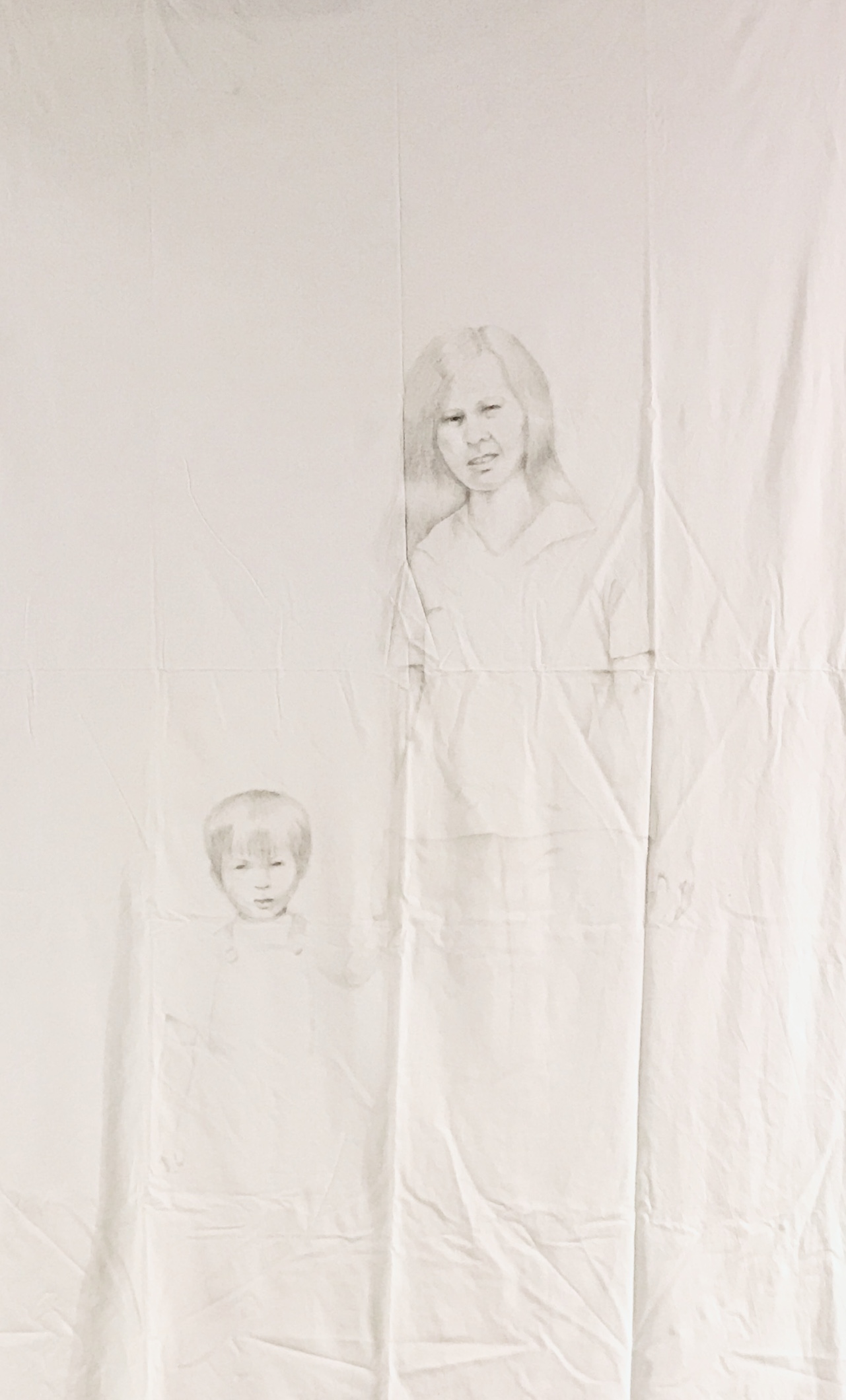 Việt Lê, Temple (Mom and Me), From Vestige, 2009, graphite & acrylic on bedsheets, 102 x 56″, Civitella Ranieri, Italy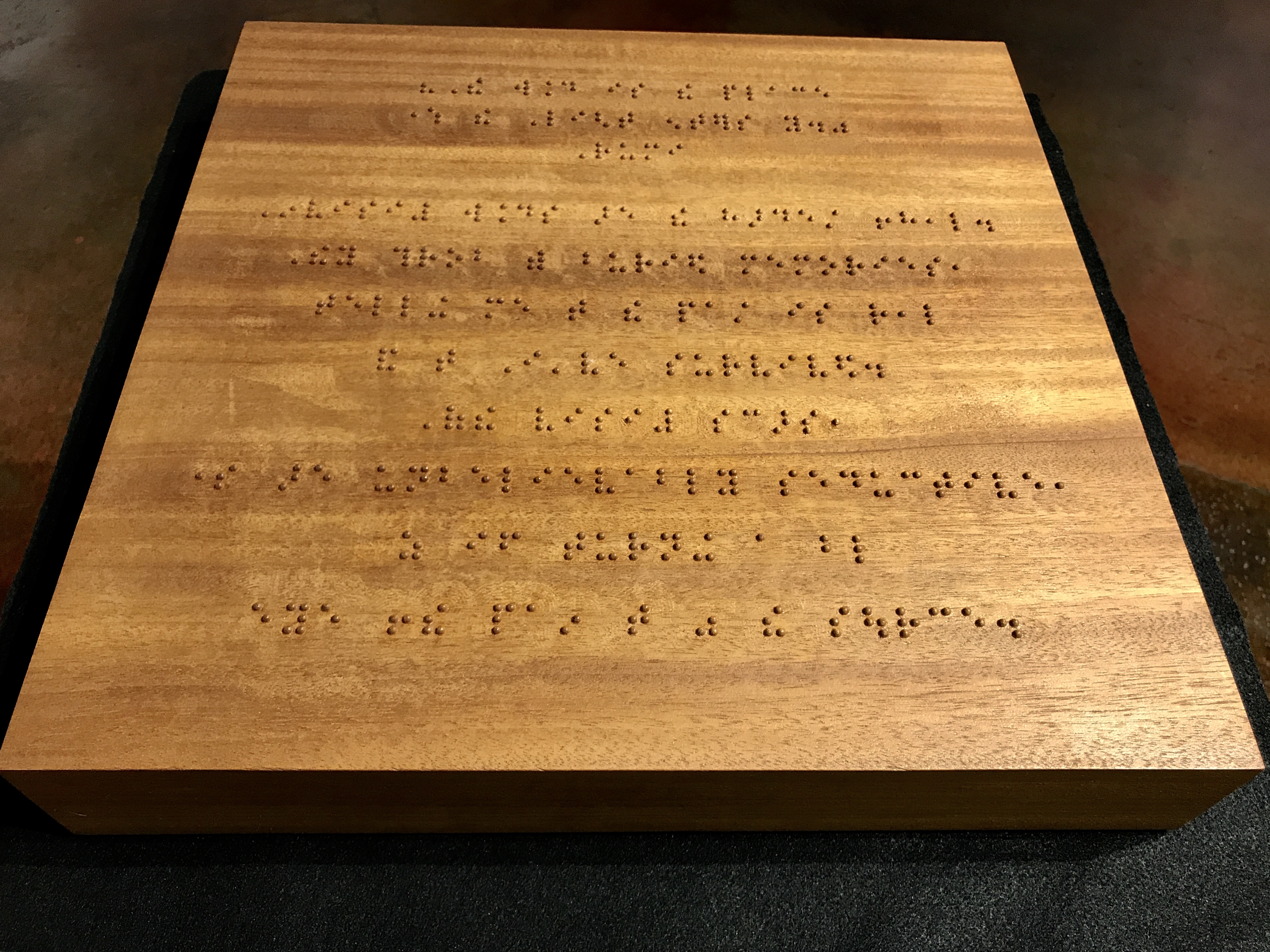 Yong Soon Min, Light/As/If, 2015, Digitally cut – mahogany, 17 X 17"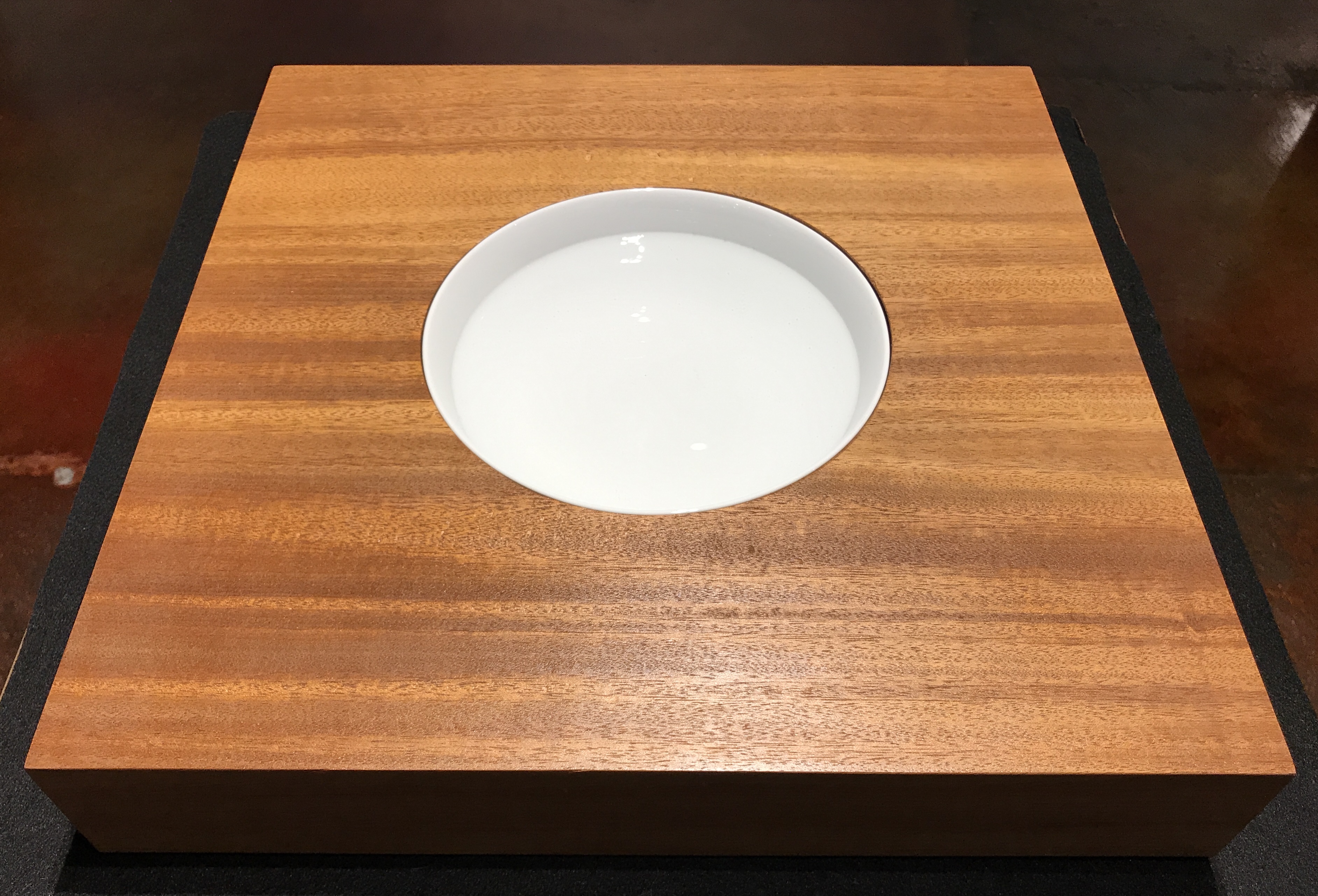 Yong Soon Min, Containment, 2015, Digitally cut – mahogany, ceramic bowl, water, 17 X 17"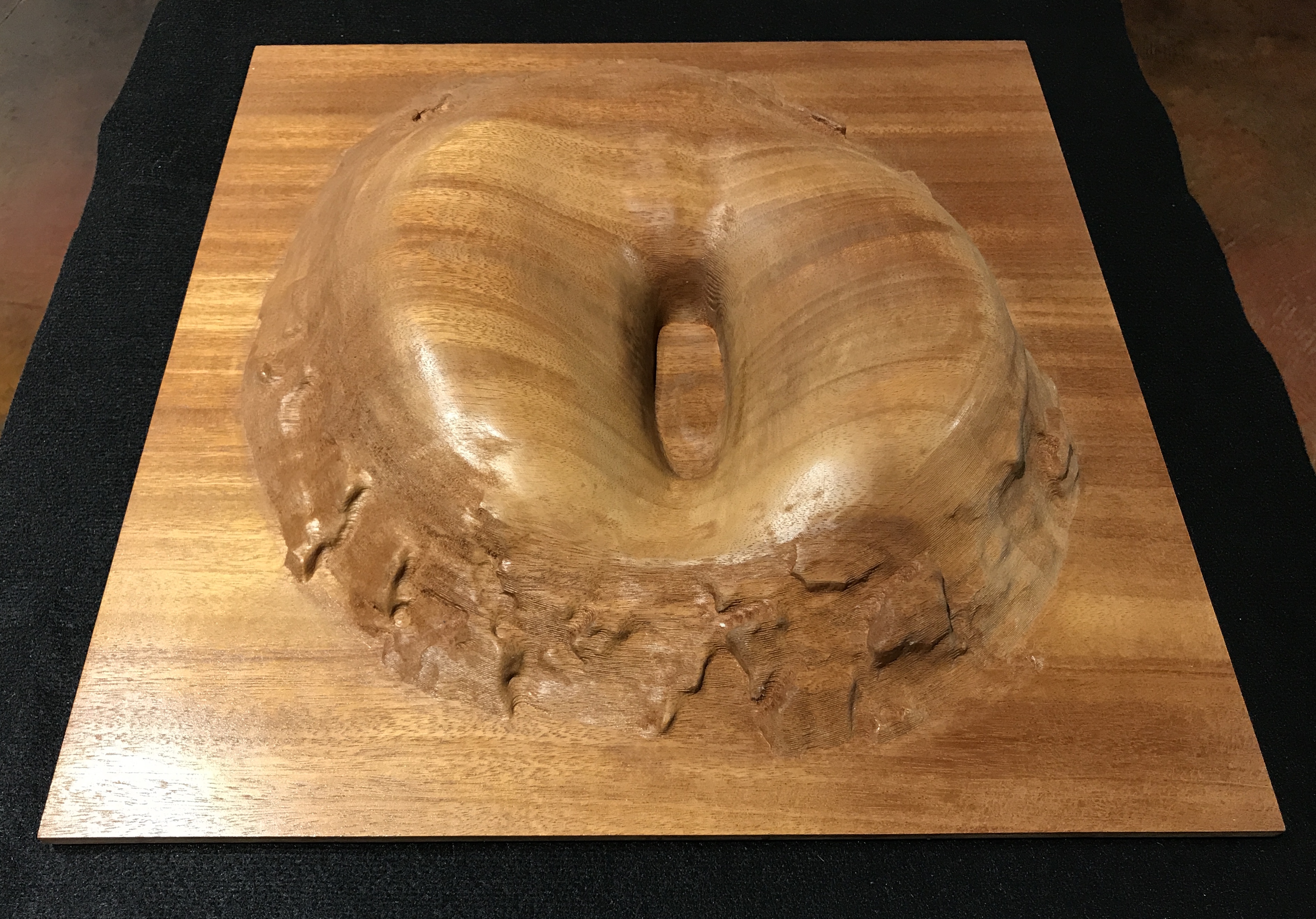 Yong Soon Min, Duality, 2015, Digitally cut – mahogany, 17 X 17"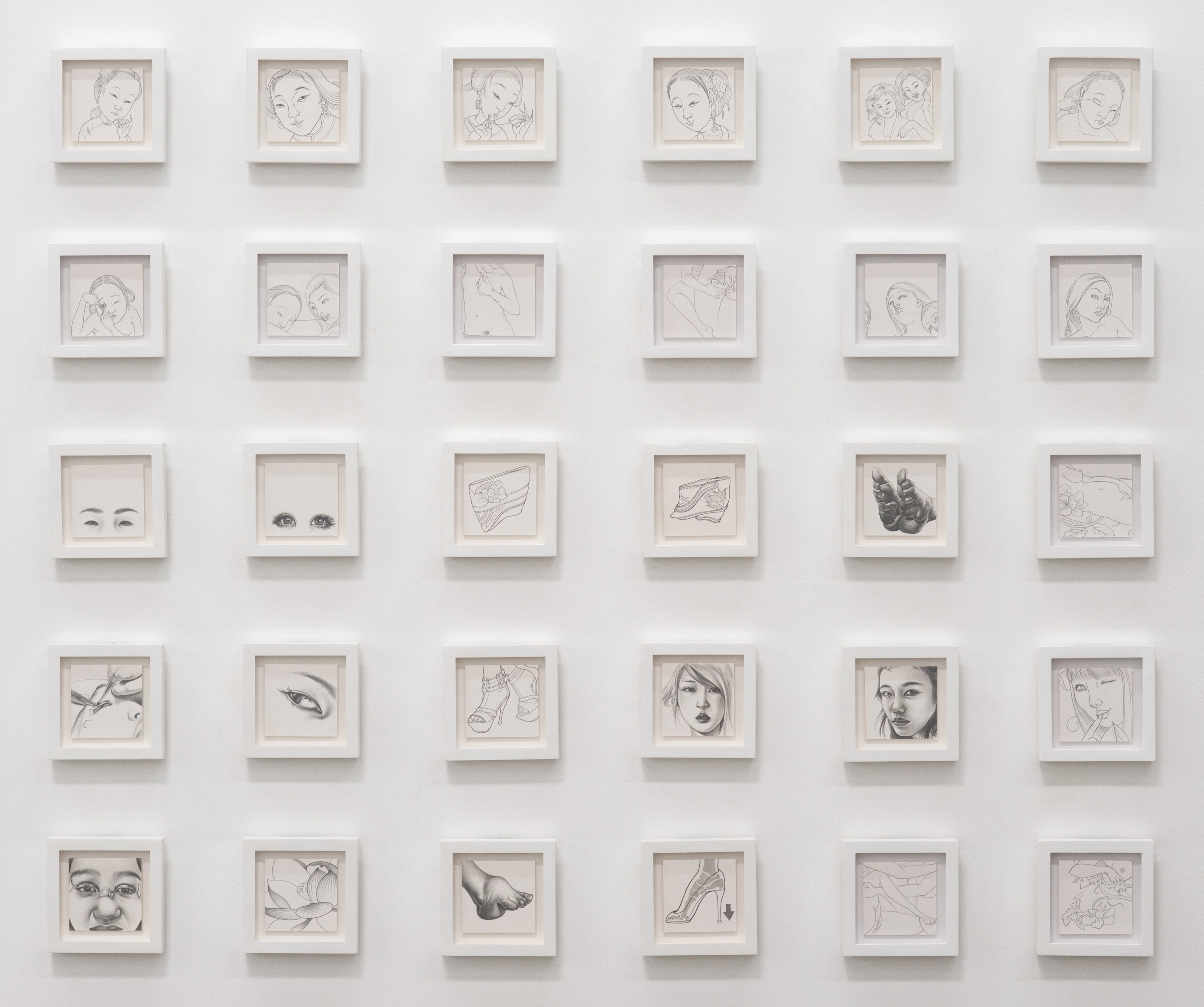 Phung Huynh, Pretty Hurts, 2015 – 2017, Series of graphite drawings on 3 x 3″ board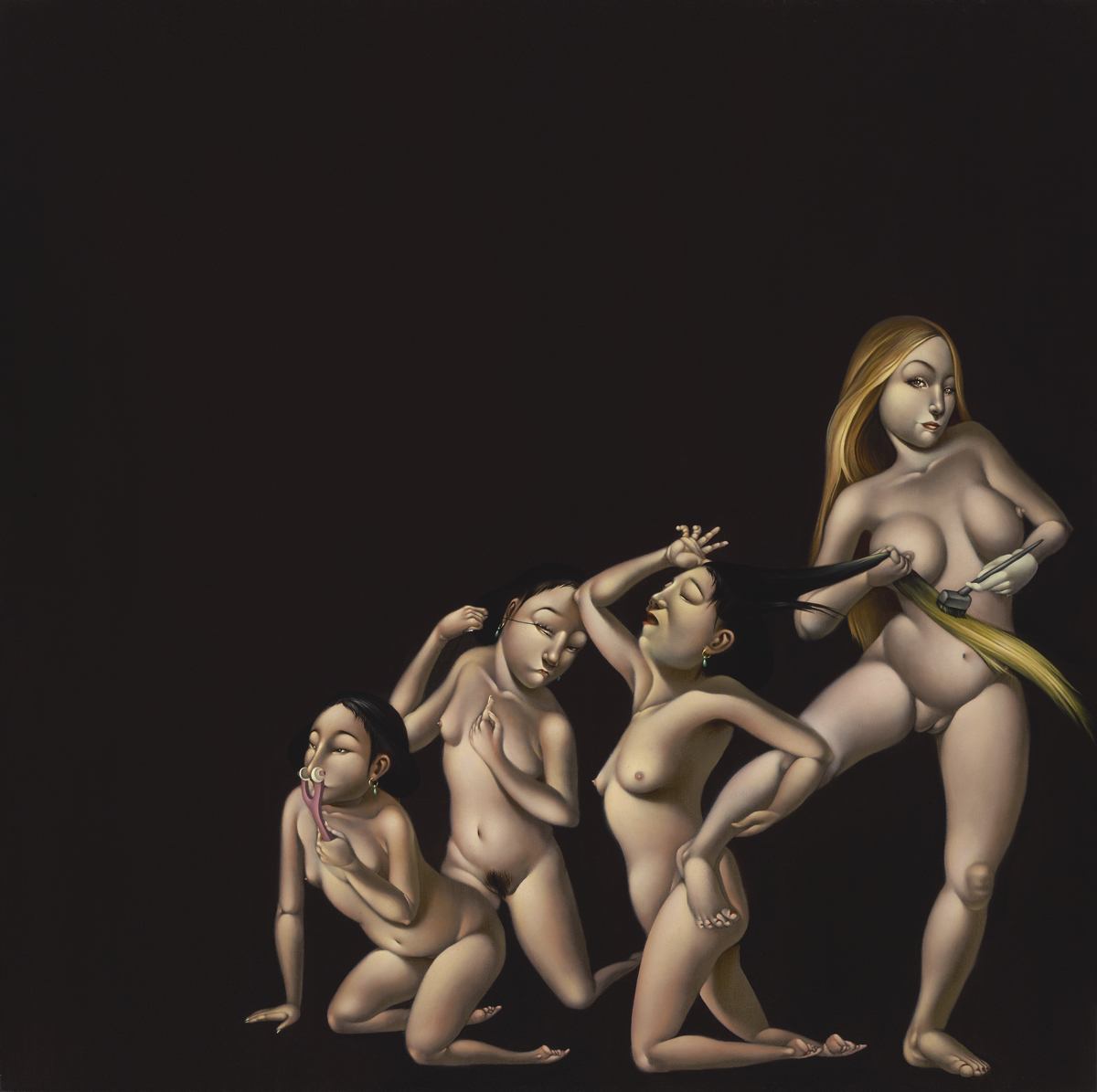 Phung Huynh, Bleaching, 2016, Oil on canvas, 42 x 42″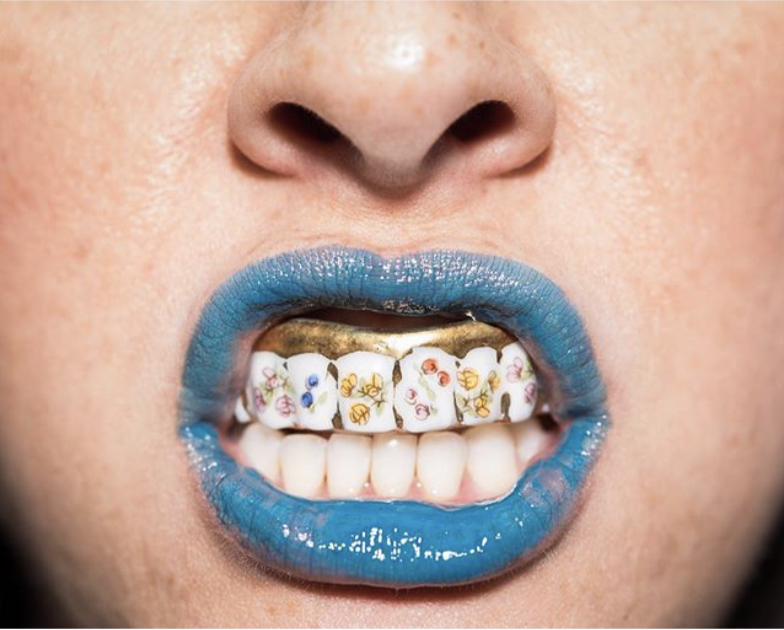 Jennifer Ling Datchuk, Gurl Grill, 2019, Edition 2 of 8, Digital print, Hahnemuhle Fine Art pearl paper, image consists of porcelain, gold luster, deadstock commercial decals, Paper 16 x 20″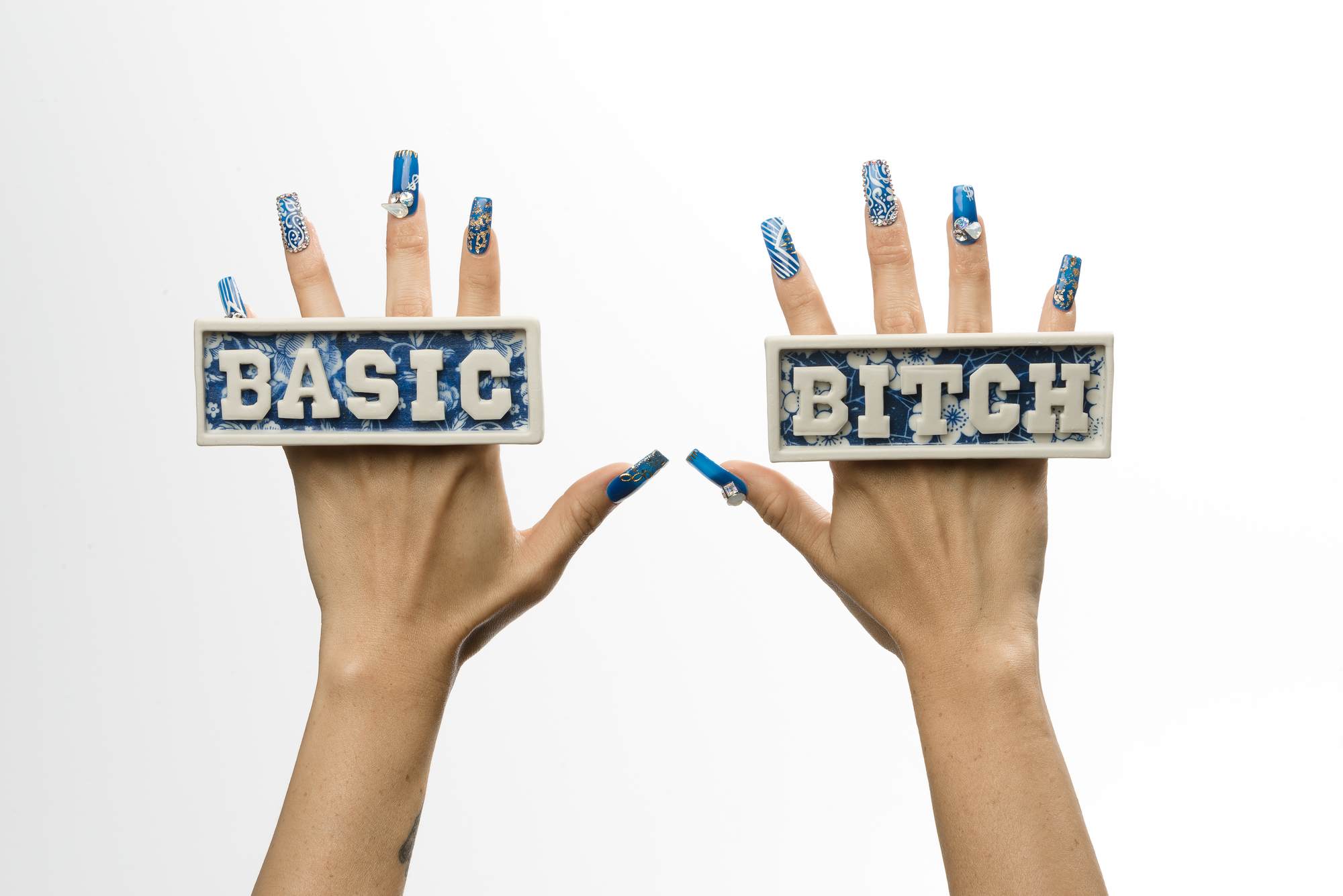 Jennifer Ling Datchuk, Basic Bitch, 2017, Edition 3 of 8, Digital print, Hahnemuhle paper, image consists of porcelain, blue and white pattern transfers from Jingdezhen, China, blue and white nails from Glaze Nail Lounge, San Antonio, TX, Paper 16 x 24″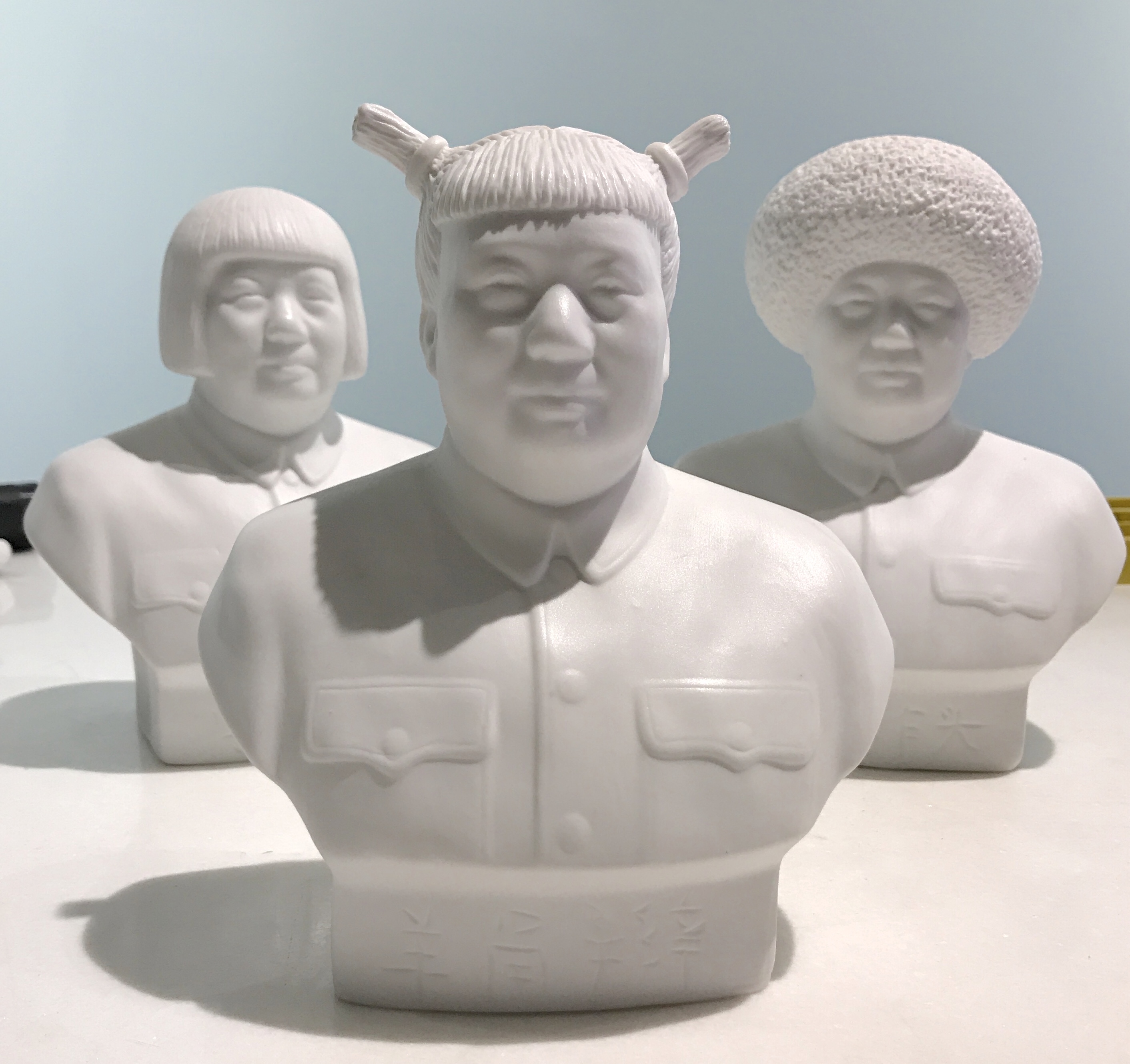 Jennifer Ling Datchuk, Mao Girls, 2016, Jingdezhen porcelain, 7 x 7 x 4″
Malisa Humphrey, Dead for France (Seasons 1,2,3,4), 2019, Permalite print, 12 x 18″ (Each panel), Set of 4 framed photographs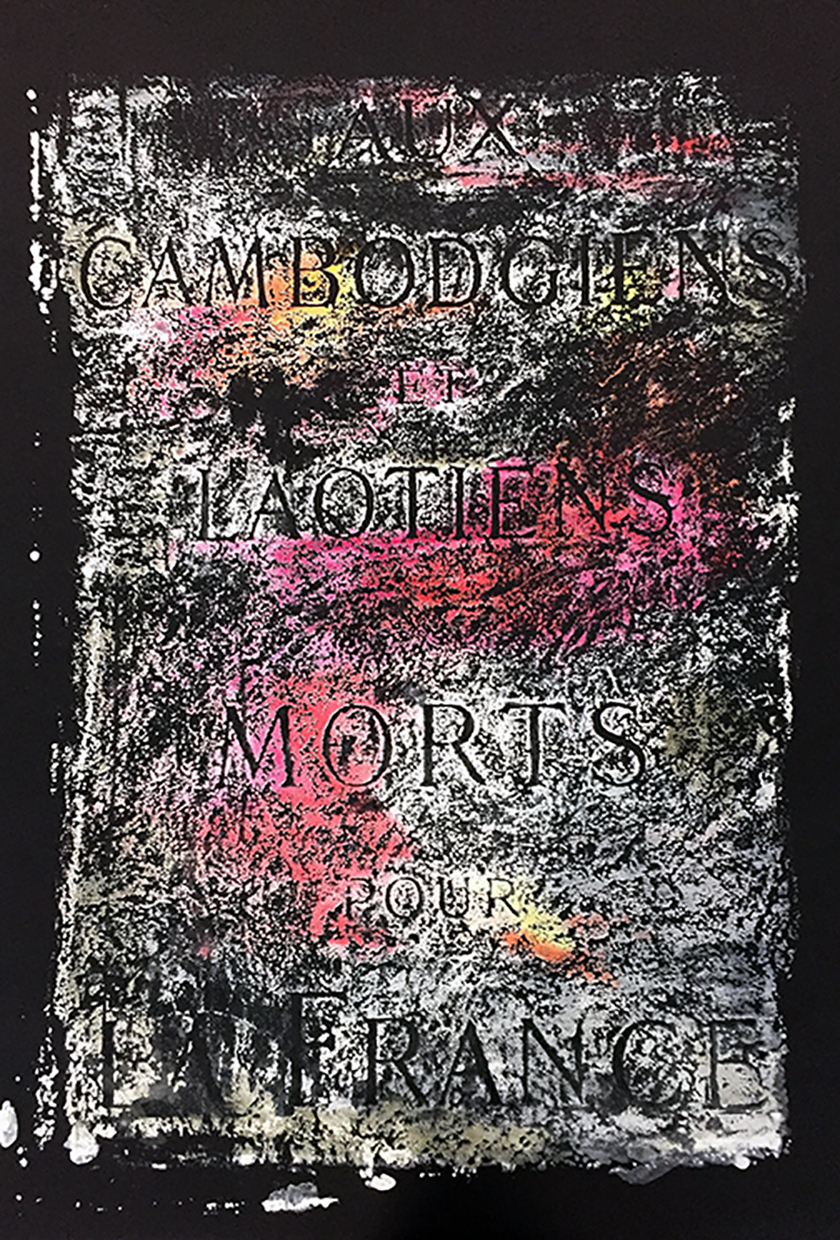 Malisa Humphrey, Dead for France, 2019, Mixed media monoprint on paper, 40 x 27″

Malisa Humphrey, Victoria, 2016, Collage on paper, 22.5 x 75.5″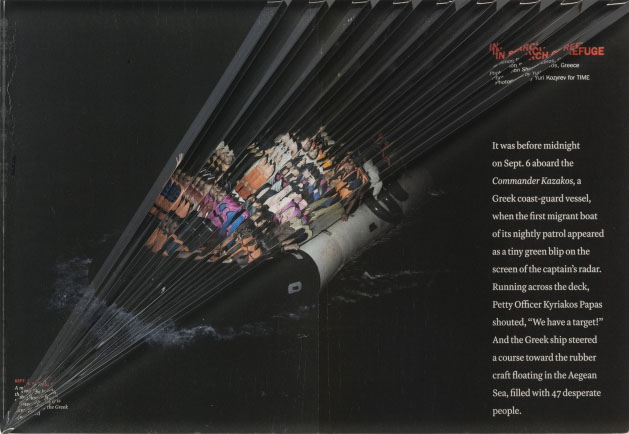 Samira Yamin, Refractions (September 21, 2015), 2018, Wheel-cut optical glass and TIME Magazine page, mounted on Sintra, 10 1/4 x 15 3/8 x 1″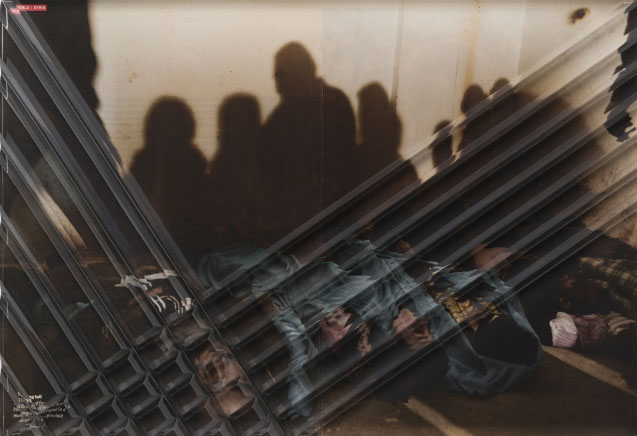 Samira Yamin, Refractions (March 12, 2012), 2018, Wheel-cut optical glass and TIME Magazine page, mounted on Sintra, 10 1/4 x 15 3/8 x 1″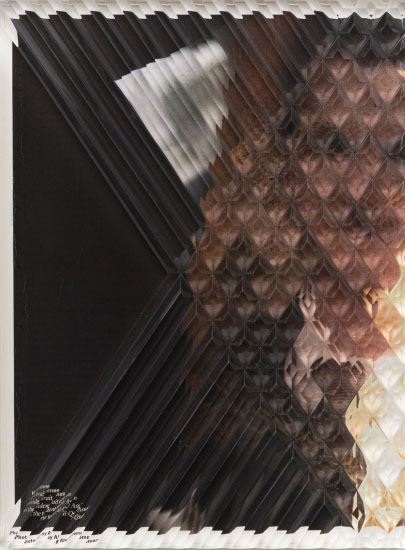 Samira Yamin, Refractions (August 6, 2012), 2018, Wheel-cut optical glass and TIME Magazine page, mounted on Sintra, 10 5/16 x 7 5/8 x 1″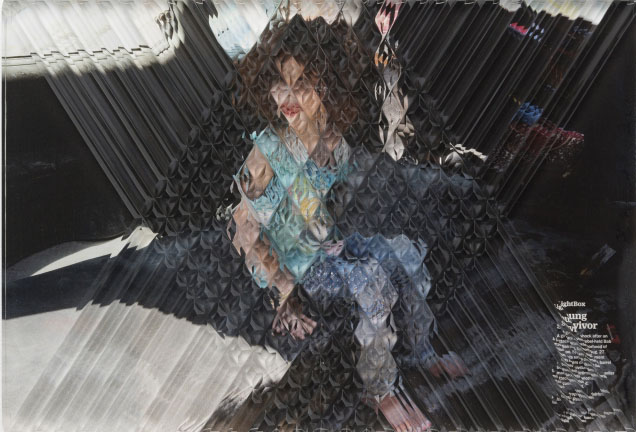 Samira Yamin, Refractions (September 12, 2016), 2018, Wheel-cut optical glass and TIME Magazine page, mounted on Sintra, 10 1/4 x 15 1/4 x 1″
Art Salon Chinatown is proud to present
Made in Asian America
, a group exhibition featuring work by contemporary Asian American artists. This exhibition will showcase a broad range of artistic engagement, practice, and inquiry across a richly varied Asian American creative community.
Participating Artists: Jennifer Ling Datchuk, Keiko Fukazawa, Clement Hanami, Iris Yirei Hu, Malisa Humphrey, Phung Huynh, Việt Lê, Sandra Low, Maryrose Cobarrubias Mendoza, Yong Soon Min, Yoshie Sakai, Samira Yamin
America looks altogether different than it did one hundred seventy years ago when the first Chinese began arriving en masse to seek life-changing opportunities in a hostile land with an identity crisis. They, their descendants, and many subsequent waves of immigrants from all over Asia have helped shape this country with their hopes, dreams, and resilient survival. As the nation engages in a weaponized cultural civil war and grapples with the realization of its ethnic and racial metamorphosis, Asian Americans today enjoy hard-won rights of its pioneers' legacies and contend with new norms that serve or continue to exclude or undermine them.
The artists of
Made in Asian America
divulge lesser-known truths of the present and offer glimpses into a new imaginaries and possible futures. Their works demonstrate art's power to interpret this moment as a catalyst for otherwise unforeseen opportunities, and present a compelling case to rethink American identity now. Art Salon Chinatown is dedicated to presenting Asian American artists, as they remain underrepresented in the Los Angeles arts community, and drawing attention to the history of New Chinatown (established 1938).