Art Salon Chinatown Presents 
May Sun
September 22 – October 29, 2018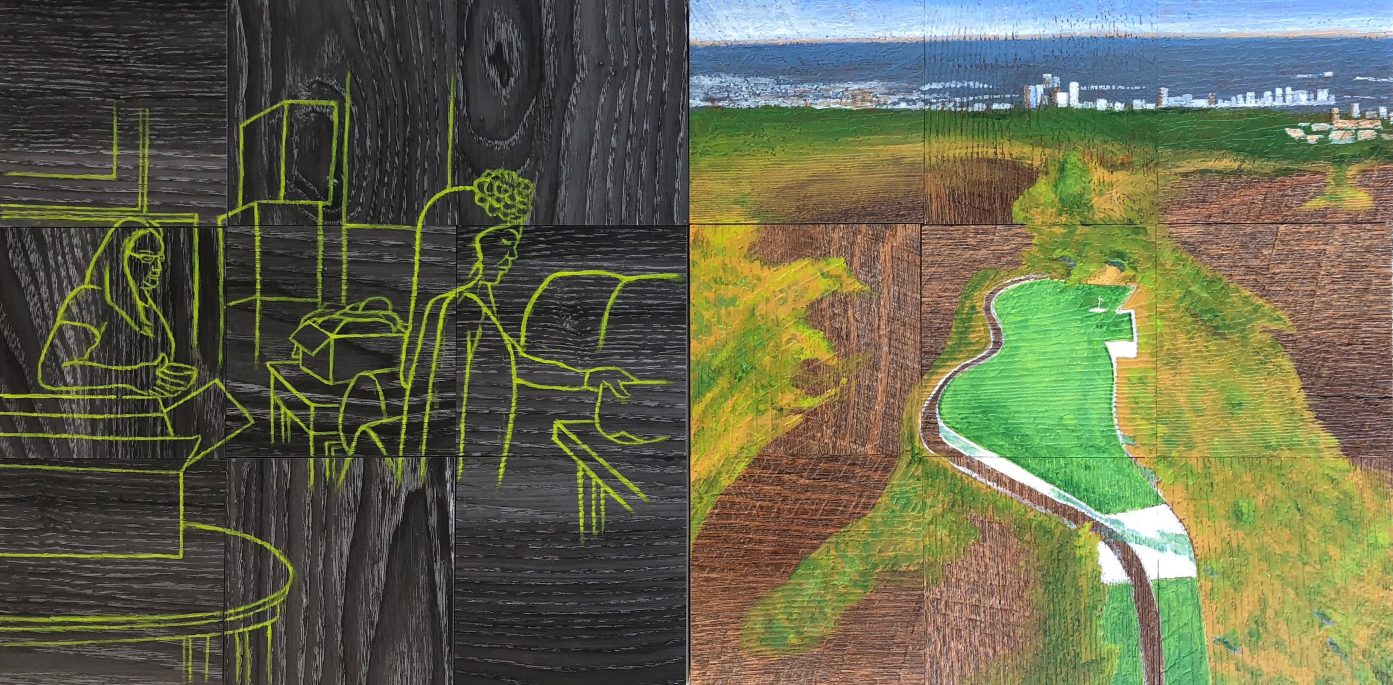 May Sun, Forced out of home/Mountain of a listing for $1 billion, 2018, Acrylic on vinyl flooring panels, mounted on wood, Dyptich, 12 x 12 inches (each panel)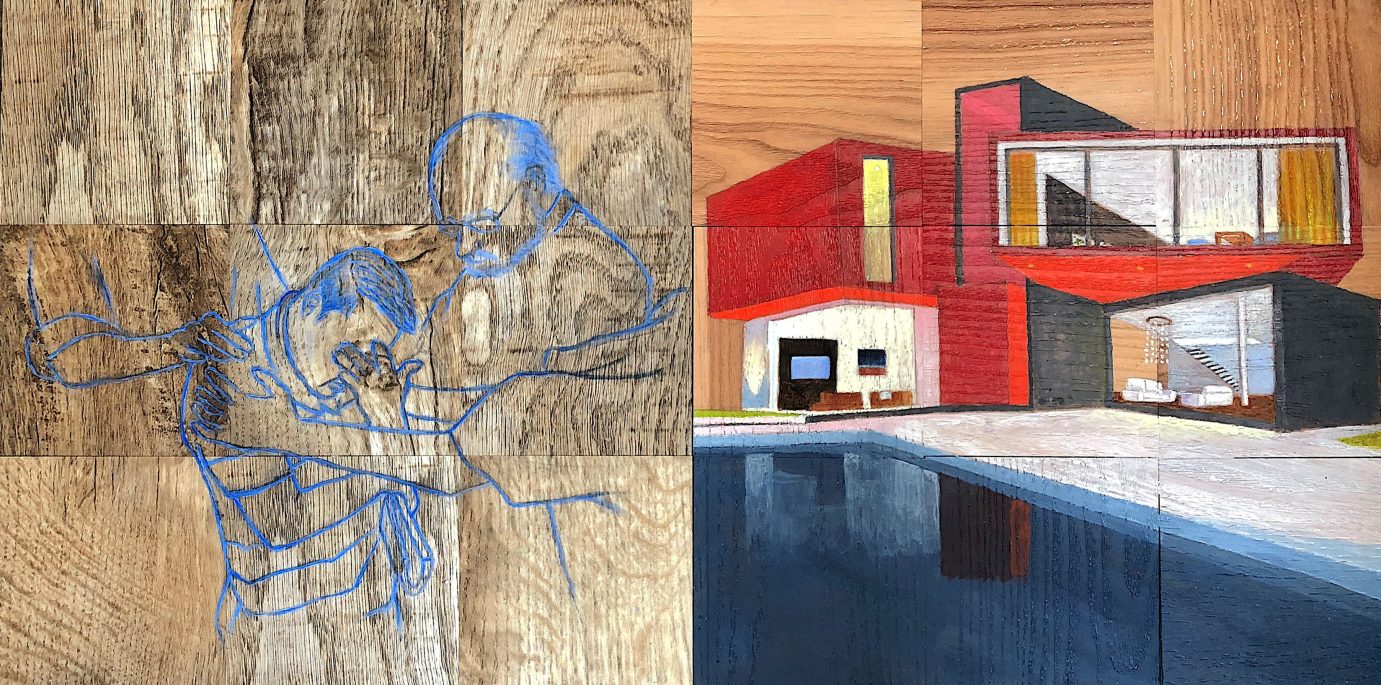 May Sun, An Unbearable Separation, 2018, Acrylic on vinyl flooring panels, mounted on wood, Dyptich, 12 x 12 inches (each panel)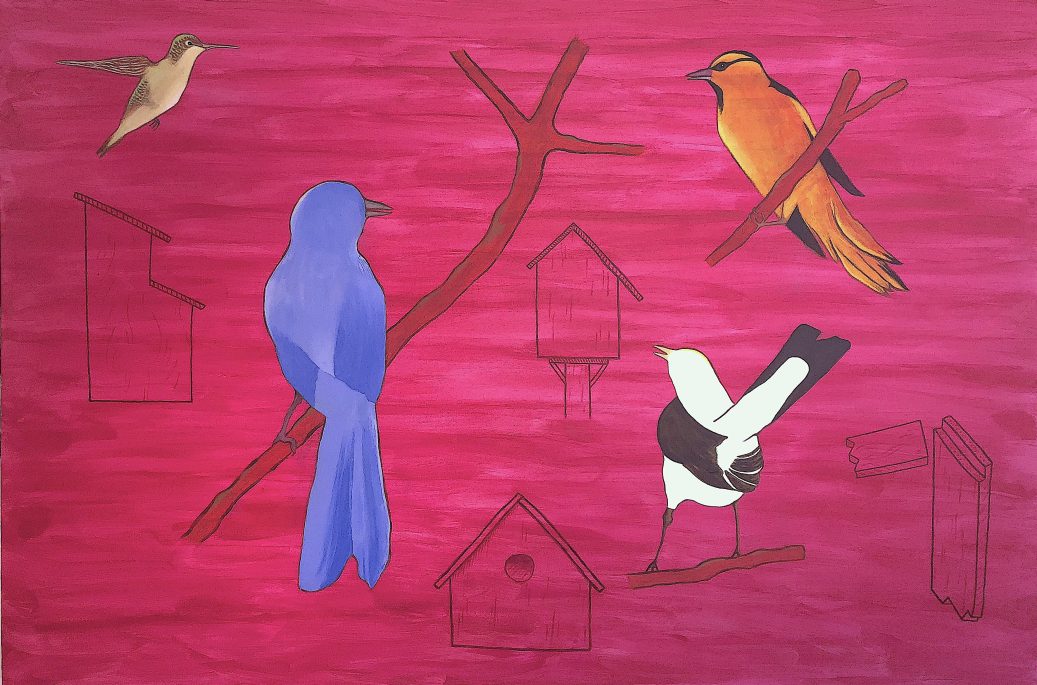 May Sun, Ornithological Visitors, 2018, Acrylic on canvas, 48″ x 60″
The Ministry of Culture is pleased to present the fifth edition of Art Salon Chinatown exhibitions featuring Los Angeles artist May Sun. The exhibition will be on view September 22 – October 29, 2018. The opening reception will be held on Saturday September 22, 2018 from 6:00 to 8:00 pm at Realm (address at the bottom).
As a seasoned artist with a career forged in the fresh legacies of the feminist and civil rights movements in Los Angeles, much of May Sun's work reflects a deep and methodical preoccupation with history and culture. In her studio practice as well as her public art practice, her Chinese ancestry and contemporary, multicultural American existence have proven to be especially rich terrain for exploration and discovery in her work. Sun has also intentionally embraced the histories and personal narratives of other communities of color and immigrant and native communities, seeking to elucidate the little-known past against erasure. 
A three-month residency in Monet's Garden in Giverny, France, prompted her to reconsider the beauty and power of nature; it proffered a challenge to her surrounded-by-concrete life as a city-dweller. This reverie of the natural world has become a primary lens through which to experience the world, and elements of this deep appreciation for nature have appeared in her work ever since. 
Such is true in her new work in her ruminations on home as a place of belonging–replete with a kind of visceral beauty, a space of ritual and respite marked by the changing of the seasons, the cornerstone of what was once the American Dream now unattainable, and a more obscene iteration: a commodity of extraordinary luxury, a disavowal of the basic human right to shelter. As an established professional artist struggling to maintain financial stability and as a citizen witness to Los Angeles' exploding homeless population, Sun's thoughts on the subject of home are tinged with the worry of housing insecurity that so many artists face, the precarious balance many of us are so desperate to strike in order to keep a roof over our heads and those of our loved ones, and the enviable, unfettered emancipation that comes from moving freely through the world like the birds who nestle in the artist's backyard. Sun loves the birds who cohabitate on the property she rents; they enjoy the simplest of life's pleasures, and their only currency is to live with purpose and intention. 
Born in Shanghai and raised in Hong Kong, May Sun received her B.A. in Art (Painting, Sculpture, and Graphic Arts) from UCLA and an MFA in Sculpture at Otis College of Art and Design. Her oeuvre includes the broad range of the visual arts, from painting, photography, and video to performance and large-scale mixed media installation, as well as major public art projects throughout Los Angeles and across the country. She has taught at California Institute for the Arts, Otis, and other art schools and colleges across the US, and recently served as artist in residence at the Rinehart School of Sculpture at the Maryland Institute College of Art in Baltimore, Maryland from 2017-2018.
Artist Statement
The Times in L.A./The Meaning of Home
My current house is a small bungalow with a small studio in the back garden. The garden is home to many birds, and regular visitors include hummingbirds, orioles, mockingbirds and scrub jays. It's the most rooted place I have ever lived, having moved and lived in various apartments previously.
My parents immigrated twice, the first time leaving China for Hong Kong, the second time to the United States. Los Angeles is as close to a home as I'll ever have. I don't own my house, and on a hot summer day I went to Home Depot to feel the air conditioning. I saw wood and laminate wood floors on sale and fantasized about replacing our carpeted floors with the wood. Realizing you could take samples of each floor, I took several and thought I could make an art project with them.
I still read the Los Angeles Times, the physical paper, every morning. Every day there are stories about the expanding homeless population, their needs, their trials and tribulations, living on the streets, in tents and in shelters. Every other day there are photos of families being separated at the border and families being tearfully reunited, all because they wanted an opportunity to live in a safe country.
Every weekend in the Hot Property and View magazines, there are exclusive luxury listings for houses that cost $25,500,000 and houses that rent for $65,000 a month. There are "spectacular compounds" where you can "live above the stars," there are "high-class hideaways," and there is a "curated collection of premier properties" where if you own one of them, you can show visitors that "sophistication and style know no boundaries."
What is the meaning of home? Would you pay $65,000 a month to rent a spectacular house even if you can afford it? Do you think that all homeless people are drug addicts and that that they bring it on to themselves? Do you know how easy it is to be evicted if you don't have steady income and you have an unforgiving landlord? Do you know how many people live in their cars? Do you know how many artists have had to leave
their buildings where they live and work because developers have bought those buildings and are renovating and tripling the rents so that non artists can live in an artsy environment?
Birds nest in trees, forage for food to feed their young and themselves. They fly high in the sky, and can escape danger most of the time by taking off with their wings. When I see the birds in my garden, I realize they have a home here, and they never have to worry about being homeless, or coming up with a billion dollars to live "above the stars."
May Sun
September 2018